Anorbank is in 1st place in the top 10 in the finance section of Play Market
25.01.2022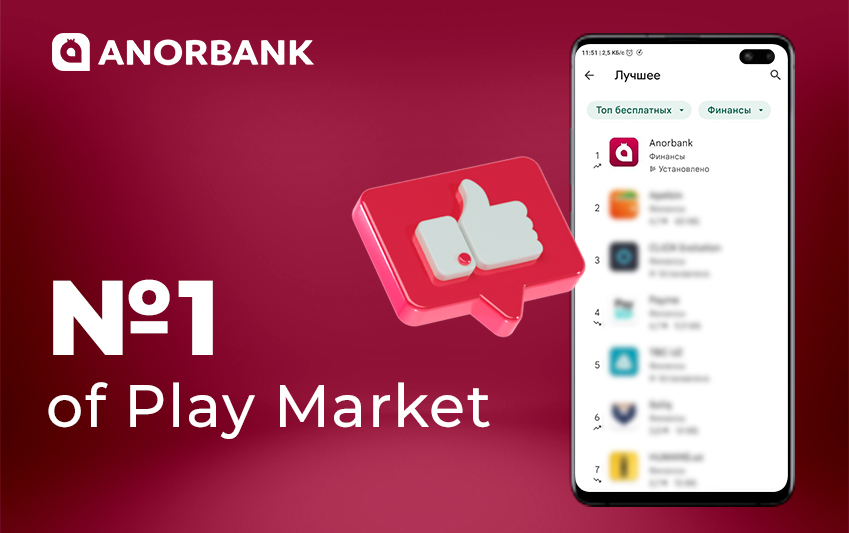 The ANORBANK mobile app saves yours any time and money. After all, financial transactions could be performed from everywhere in the world. You will find a convenient and understandable interface in the app, new features, and capabilities. An interesting fact, despite the massive power outage, we climbed to first place in the financial section of the Play Market. What are the benefits of the application?
Online registration of banking products

Remote receipt of banking products is necessary in some situations, where it is not possible to visit the bank. It is enough to go to the App Store or Play Market, download the application and use the services. For example, you can open a deposit, apply for a microloan or get a loan.

Operations with cards and accounts online

In the application, you can order a card, which we will deliver to you for free throughout Uzbekistan. In addition, we would like to say, transfers from Tinkoff cards to TRIA Humo, currency exchange, opening a foreign currency account or wallet are available.

Pay for services and government payments

You can pay for taxes, subscriptions, utilities, duties, fines and etc. Keep track of your expenses in the "Monitoring" section.
We are constantly working to improve our service, so that you can quickly and easily use banking services for 24/7. Moreover, you can always call our contact center by calling 1290. Operators are ready to answer your questions and provide products advice.

Read more